Page updated 30th November 2020
Christmas Break Up News
For dates regarding Christmas get togethers,

click here

Shed Reopens after Covid-19
The shed will reopen on Monday 16th November, following the recent announcement by the Premier, Daniel Andrews.
A Covid 19 plan will be in place and strictly enforced.

Click here to view this important information.
AFL Footy Tipping 2020



2020 Winners:
1st:   Al – $230
2nd: Ger
– $120
3rd:  Glassman – $50
Gorilla Ladders New Sponsor

Our latest Sponsor is The Hartman Group who are a leading manufacturer, wholesaler and distributor to the Australian Leisure, Hardware and Industrial markets. Their brands include Hartman Outdoor Furniture, Gorilla Ladders and Polar Eco-View Double Glazed Windows.
Hartman Group products are designed and engineered in Australia to exacting standards and manufactured at their ISO9001 certified facility in China.
Gorilla Ladders with over 10 years' experience in manufacturing ladders for the Australian and New Zealand markets, manufacture to the highest quality products available while delivering outstanding value across a broad range of access applications.
Through June and July 2020, the DVMS received a significant donation of brand new ladders of various sizes and types.  Justin Howarth, National Sales Manager, Gorilla Ladders, initially contacted the DVMS to offer this most generous donation. The result of this donation has seen ladders being distributed to various Men's Sheds, including some in the Kingston Cluster as well as some Rural Men's Sheds.
The Dingley Village Men's Shed members and committee in particular are extremely grateful to Justin and the Hartman Group for the wonderful generosity that we have received.  The DVMS Sponsors page now proudly displays the Gorilla Ladders logo as one of our excellent Sponsors. 

 
Shed Closure
Due to the Covid-19  lockdown, the Shed is closed from midnight Wednesday 8th July 2020 for 6 weeks and until further notice.
Shed Reopening

The Shed will reopen on Monday 15th June 2020. Please refer to the email sent to all members regarding  important health and social distance requirements, dates, times and activities.

Shed Closure



DUE TO THE CORONA VIRUS
(COVID-19) THREAT,
THE DVMS IS NOW CLOSED AND WILL BE REMAINING CLOSED
UNTIL FURTHER NOTICE



NOTE: THIS CLOSURE MAY HAVE TO BE EXTENDED FURTHER,
SUBJECT TO STATE AND FEDERAL HEALTH REQUIREMENTS.

AFL Footy Tipping 2020
The 2020 DVMS AFL Footy Tipping has been created.
The cost is $25.00 for the home and away season, rounds 1 to 23 only. Finals are not included.
Prize money will be determined when the number of members is known.
Please add your details to the information sheet on the notice board and if you need any help setting up your profile or logging in to the Footy Tips web site, please see Denis McKeegan at the shed on any Friday or email

info@dvms.org.au
DINGLEY VILLAGE MEN'S SHED MEMBER NOBLE (BILL) DAVID AWARDED
KINGSTON'S AUSTRALIA DAY CITIZEN OF THE YEAR NOMINEE AWARD 2020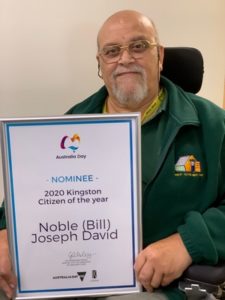 Bill was one of five Kingston residents presented with Australia Day Citizen of the Year Nominee Awards for their invaluable voluntary service over the years to the City of Kingston community. The Australia Day Citizen of the year award is the highest award given in Kingston.
Bill was nominated for his contributions to the following organizations which not only benefited the City of Kingston community but often, also other Melbourne metropolitan areas, Victorian and Australia wide communities.
Bill was the founder and President of the Victorian Road Accident Support Association (VRASA) for approximately six years. Based in Kingston VRASA provided a wide range of services to Victorians injured in transport accidents. These services included counselling, legal, medical and Transport Accident Commission (TAC) information via telephone, email and support group meetings in Kingston, other metropolitan areas and some Victorian regional cities. Bill also met with the TAC CEO's and management and Victorian Premiers and Ministers, lobbying and advocating for changes to the TAC processes to improve services and processes for those injured in transport accidents, especially those sustaining severe injuries requiring life time support from the TAC. Bill also met with the Commissioner of The Victorian Multicultural Commission to highlight the plight of migrants and refugees overwhelmed and lost within the TAC system. Bill's work resulted in an investigative report by the Commissioner and change to some TAC processes.
Bill was a committee member for the development of Kingston Council's book "Blended Voices" which provided an insight to the experiences of migrants and refugees, now Kingston residents, living in Clayton South and Westall.
Bill was a Director on the Board of Arthritis Victoria for a nine years tenure. At the end of his tenure Bill was made a Life Board Member. Bill worked to provide medical information, establishment of support groups throughout Victoria, Fundraising, etc. Again, to ensure migrant and refugee arthritis patients accessed all services, Bill promoted the development of brochures and flyers in different languages.
Bill was a Committee Member of the New Hope Foundation for several years. During this time Bill assisted migrant and refugee youths to integrate into their new communities via sport and education programs.
Bill was a committee member of Kingston Council's Access and Equity Committee for a number of years. One of the Committee's major achievements was the planning and development of the Clarinda Community Centre comprising the Clarinda Library, Community Groups meeting rooms and Health facilities. Another successful project was the establishment of the Globe to Globe Festival.
For several years Bill was a Director on the Board of St Anthony's Coptic Orthodox Primary and Secondary Schools.
For over five years Bill was a committee member of the Australian Woodturning Exhibition providing the Kingston and broader communities with the opportunity to experience the premier woodturning exhibition of Australia, attracting exhibits from across Australia and New Zealand.
Bill was a committee member of the Southern Health Community Advisory Committee servicing Monash, Dandenong, and Casey Hospitals. The Committee assisted in the development of the new Maternity section in Pakenham and improved signage in all hospitals amongst other achievements.
Bill was a Committee member of Road Safety Outer South East (ROSE). The Committee comprised representatives from Victoria Police, Dandenong and Casey Councils and members of the Community. The Committee's goal was to reduce road accidents by implementing improved safety measures including improved road signage. Bill promoted the impounding, confiscation and crushing of vehicles by serious offenders and this concept has since been introduced.
Bill, as a representative of the Arabic speaking community, was a special programs committee member of the Migrant Resource Centre (MRC), Dandenong. The association strived to assist migrant and refugee families through the provision of information which would assist in their settlement. One significant achievement was the translation of a comprehensive Dementia brochure into an Arabic language acceptable to all Arabic speaking people.
Bill achieved his certificate in Occupational Health and Safety when Operations Manager at Chirnside Park Shopping Centre. The OH&S certificate is awarded to recipients who are trained in emergency evacuation procedures for bomb threats and other emergencies. Bill now volunteers at DVMS as an OH&S Officer and wood turning instructor.